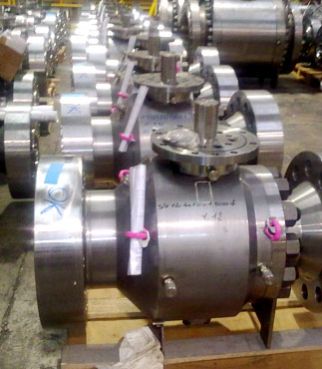 | | |
| --- | --- |
| Business Type | Manufacturer, Exporter, Supplier |
chrome moly/alloy steel valves f11/f22/f5/f9
falcon manufactures and stocks a large range of 'chrome-moly' valves. these valves are manufactured from low alloy steel containing chromium and molybdenum making them suitable for higher temperature service especially for higher pressure and temperature combinations. in addition, these valves have the added advantage of anti-corrosive properties. grades include forged astm a182 f5, f5a, f9, f11 and f22, and their cast equivalents astm a217 c5, c12, wc5, wc6 and wc9. higher grades like a112 f9/astm a217 c12a are available on an indent basis.
types
alloy steel gate valves
alloy steel globe valves
alloy steel check valves
size
gate valve: ¼" to 48"
globe valve: ¼" to 24"
check valve: ¼" to 36"
pressure rating
end connections
flanged 
butt weld
socket weld
Read More...
Equivalent Grades & Applications
Material Group
Common
Type
UNS
Forging Spec.
Casting Spec.
DIN
DIN W.
Application
Name
Equivalent
No
Low Alloy Steel
Moly Steel
C-1/2Mo
K12822
A182-F11 cl2
A217-WC1
15M03
1.5415
Up to 470ºC*(875ºF)
Alloy Steel Chrome Moly
1.1/4Cr-1/2Mo
K11572
A182-F11 cl2
A217-WC6
13CRM044
1.7335
Up to 593ºC (1100ºF)
2.1/4Cr-1Mo
K21590
A182-F22 cl3
A217-WC9
10CRM0910
1.738
Up to 593ºC (1100ºF), HP steam
5Cr-1/2Mo
K41545
A182-F5/F5a
A217-C5
12CRMO195
1.7362
High temp refinery service
9Cr-1Mo
K90941
A182-F9
A217-C12
X 12 CrMo 9 1
1.7386
High temp erosive refinery service
9Cr-1Mo-V
A182-F91
A217-C12A
X 10 CrMoVNb 9 1
1.4903
High pressure steam
Looking for "
Alloy Steel Valves

" ?